We all know that our days are (and, therefore, our calendar is) absolutely crazy. No two are ever the same as school counselors. (It's honestly one of my favorite things about this job.) However, we will not be efficient or effective if we're not taking control of our time or our calendar.
How often do you look back at a day or a week and wonder what you have to show for your energy and commitment to students?
Are there more things you wish you could have done to serve your students and families? Do you wish you could be more efficient and effective with your workday?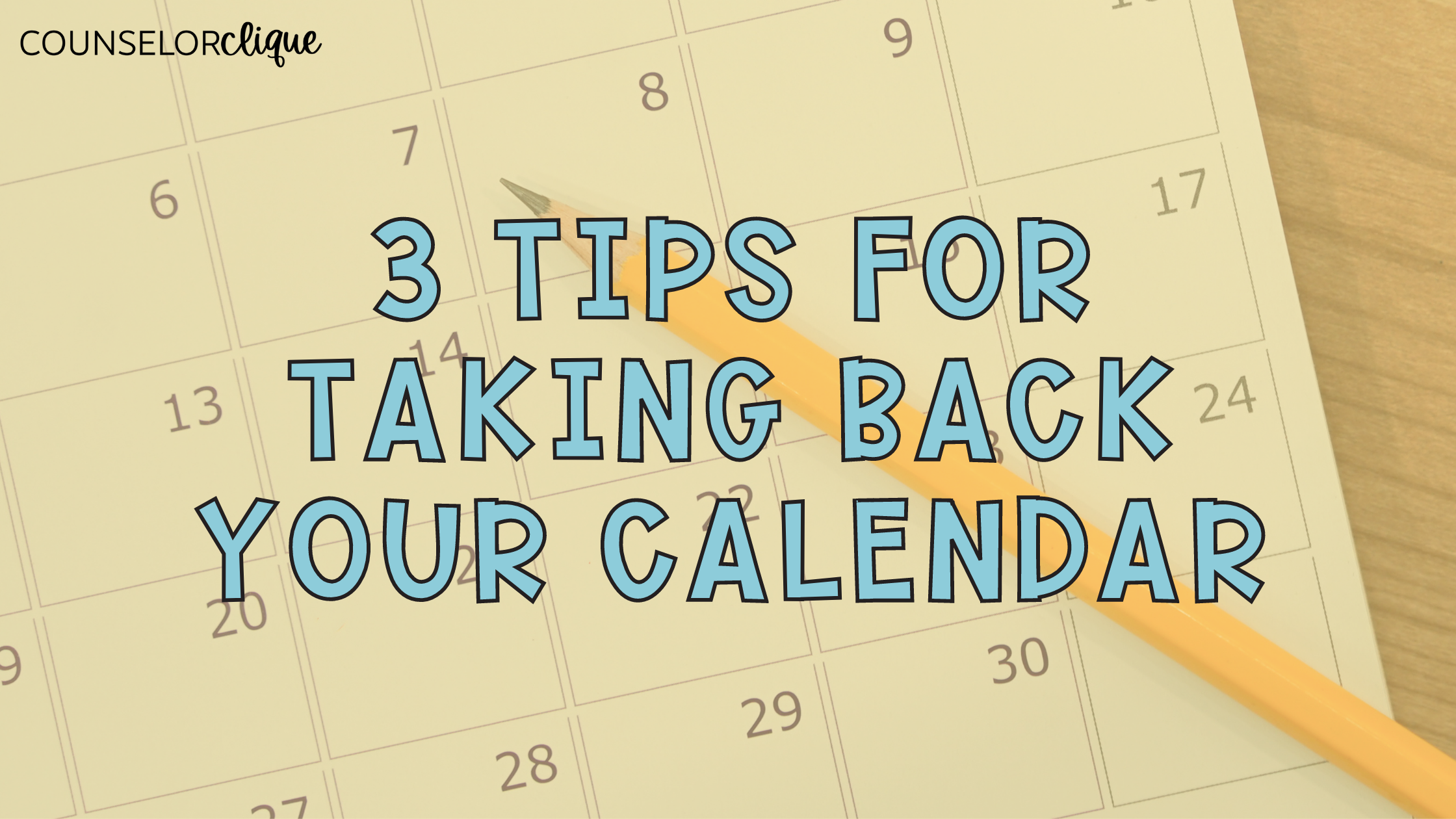 Here are 3 tips for taking back your calendar so that you can do the job you love doing!
1- Plan your time on your calendar with intention.
Decide what non-negotiables need to go on your calendar. You can do this at the beginning of the month, or like I prefer, the beginning of the week. Use a calendar system that works well for you. (This may take some trial and error.)
I'm a digital gal, so I love Google Calendar for work-related things and iCal for my personal calendar.
Know that your calendar can (AND MOST DEFINITELY WILL) change. I love being able to drag something (using Google calendar) from one day to the next if it didn't get done.
2- Let others know your plan on your calendar as a way to advocate for your role.
I know this sounds silly because you're thinking… "Why would anyone care about my calendar?" I believe a huge piece of establishing credibility in your leadership is being transparent with your stakeholders.


Of course, you don't need to let people know when your personal appointments are, but people's perceptions change (for the better) when they know more and don't need to assume things.
Parents were often surprised to know that the reason their phone call wasn't returned right away was that I was in the classroom teaching a lesson on communication to students and not sitting at my desk. By making my calendar available or subtly explaining some of my responsibilities, I'm advocating for my role as a school counselor.
I prefer to use a digital calendar for work so that I can post this on my website. If someone stumbles upon it, they can see the variety of programs, small groups, classroom lessons, and parent workshops we are doing.
3- Teach your stakeholders how to digitally schedule appointments on your calendar.
Call me crazy, but there is not a bigger time waster than going back and forth trying to figure out availability. I can't stand phone or email tag just to set up an appointment or meeting time.
There are a variety of apps, Chrome extensions, and plug-ins that allow you to sync with your Google or Outlook calendar. Check out Calendly, YouCanBook.Me, or Acuity Scheduling… to name a few.
Running around putting out fires is not a way to sustain best practices in school counseling, and you will eventually burn out! When YOU are the one in control of your time at school, I firmly believe you will have higher job satisfaction because you'll be student-focused… like the career you originally signed up to do!
Looking for other ways to advocate for your role in your school? Check out my free guide to Program Promotion by signing up for my email list here! Or read about How to Advocate for Your Time Without Rocking the Boat in another blog post here!
If you're looking for extra training to help you partner with stakeholders AND take back your calendar… check out this 1-hour professional development workshop: "3 Ways to Level Up Your School Counseling Stakeholder Relationships."