As we prepare to launch our senior students into the next chapter, we have the privilege of making them feel ultra-celebrated and supported. One way we can celebrate senior students is by showing off their post-secondary plans. I know this is a crazy season for us counselors; your time is incredibly limited. Use this single, cost-effective activity for a far-reach and a major impact. It's so easy to do, and your seniors will absolutely love it. Let me explain.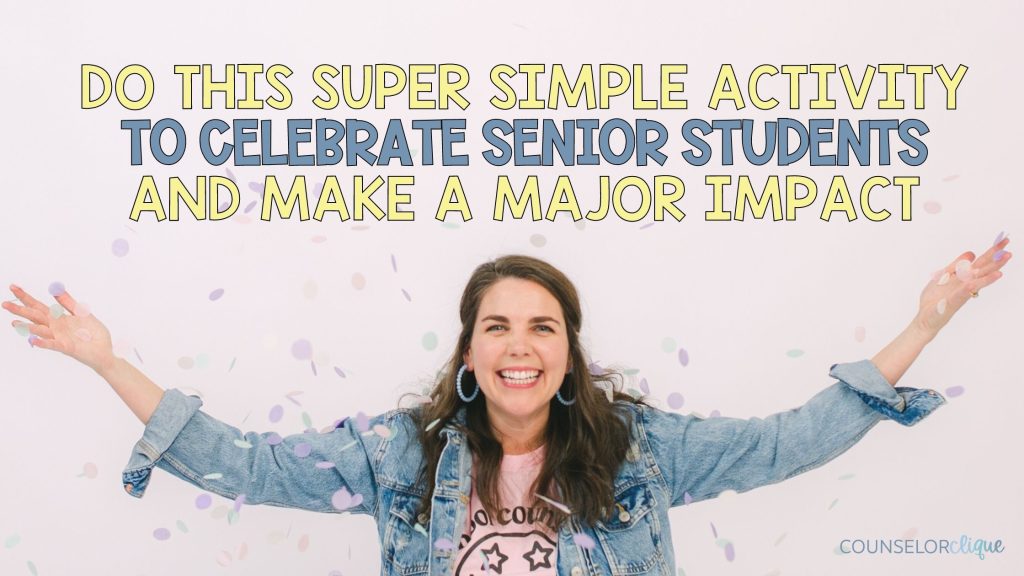 First step: Gather photos of your seniors showing off their post-secondary plans. Put a call out to students and parents to email a picture in their college t-shirt or hold up a sign with the logo or name of the workforce they'll be joining. Or, go into their classrooms (focus on those required senior courses to find all the seniors in one place), bring a dry-erase board and marker, and take pictures of students next to a written note of their future plans.
Now, from here, I am going to give you 4 ways to use these pictures to build momentum for graduation and put your students on display in a way that will really make them feel so seen and celebrated. In short, I'm going to have you make a slideshow, make a bulletin board, showcase your students on social media, and make an interactive Google Map. Let's go!
1- Celebrate senior students by creating a meaningful slideshow
How to do it: This may sound like a lot of work, but I promise you it's not. Once you've gathered all your pics, simply create a slideshow of the pics with some background music. If you're on a Mac or an iPhone, put the pics in an album, hit "create slideshow," and you're ready to go. A couple of great user-friendly editing apps are VLLO and InShot. If you're feeling fancy, you can add text overlays with students' names.
Pro Tip: As you're taking pictures on your iPhone, swipe up and add a quick caption so you can gather names and info all in one place for easy access.
What to do with it: Now that you have the slideshow created, you can share it at a senior breakfast, graduation rehearsal, senior awards night, or senior decision day. Put it up on a projector at any senior-specific event and hit play. They will love seeing themselves and their future plans displayed for all to see!
2- Celebrate senior students by making a bulletin board
How to do it: Alright, phase two. Take all those lovely pictures and go get them printed at your local CVS or Walgreens (a Polaroid camera would also work well for this, too). It's cheap and easy to get a stack of great pics printed and now you get to put them up for staff and students to marvel at.
You know I love giving you all you need for bulletin boards (time is too precious to re-create the wheel folks), and here's a specific one that would work well with these. It's my "Dear Underclassmen" bulletin board template where seniors can share their best advice with younger students. You could put their pics right next to the advice! You could also create a physical map with pins of where students are going. Or, just line them up in rows and hit the stapler.
What to do with it: Display your bulletin board in a high-traffic hallway or at the front of the counseling office. This is also a great way to show off the impact you've been making as a high school counselor. It's a fun way to celebrate senior students while also saying "Hey, look at all the great plans our seniors are up to and how we've helped get them there!"
3- Celebrate senior students on social media
How to do it: You've already done the work of gathering the pictures together, now it's time to blast it out. When you're on social media, you're speaking the language of your students. Partner with whoever runs your school account to create a schedule for sharing. Or, if you have a counseling-specific channel, this is the perfect place to really make your seniors shine.
I did a podcast episode on how to leverage social media in your high school counseling program so if this feels new to you, be sure to check it out.
4- Celebrate senior students with an interactive Google Map
How to do it: Take the information you've compiled with their plans and create an interactive Google Map. Add pins in the places where students will be next year. This is a great way for others to explore where your seniors are off to next year. Whether enrolling in a college, enlisting in the military, or starting a job, your students are going to new and exciting places and this allows others to see how far and wide that span really is!
What to do with it: Once you have your map created, you can share on your school social media channels, post it on your school counseling website or your school website, or send it out to parents, school administrators, and district and state staff. This is easily shareable and a great way to elevate your school counseling program.
I'm cheering for you, senior counselors! There is so much excitement in this season leading up to graduation, but it's a ton of work. I'm here to make your job easier. I can't give you more time, but I can equip you with resources and a community that'll help you make the most of the time you have. You've got this!