Hosting high school counseling interns has grown me as a school counselor and challenged me in new, professional ways. I often have new or future school counselors emailing or direct messaging me asking for words of wisdom or advice. Here are 4 inspiring tips geared towards eager high school counseling interns who are ready to learn!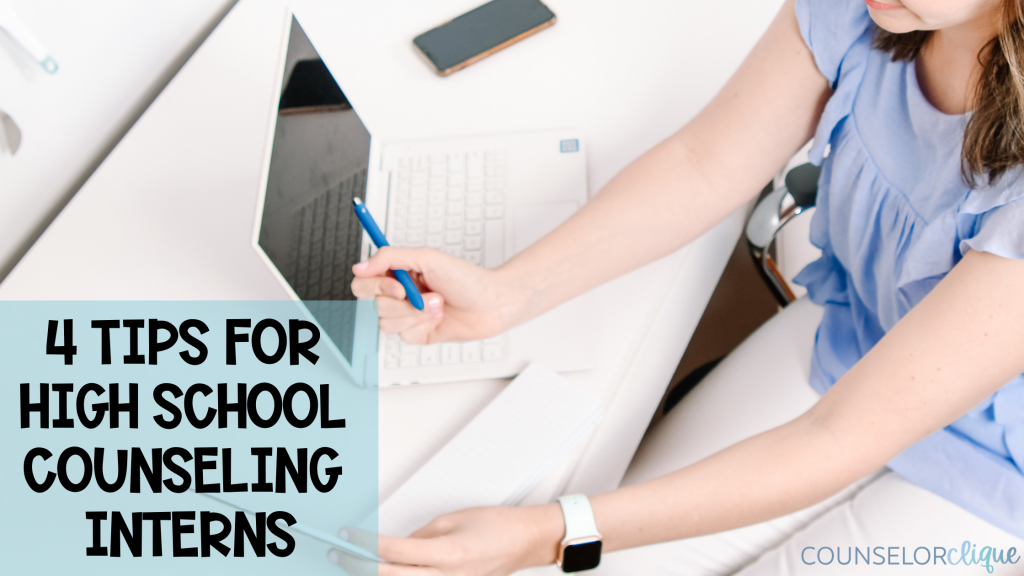 1- Treat your high school counseling internship like job interviews.
Treat every day of your internship like you are walking onto a job site. (If you're wondering what a "Day In the Life of a High School Counselor" is like, check out this blog post!) Act the part, and dress the part. Your internship supervisor and/or your "coworkers" could be writing you a letter of recommendation or informally vouching for you when it's time to interview. The way you carry yourself daily will heavily impact how others go to bat for you for a job. Their perceptions of how hard you work or how you spend your time at your internship site could make or break you receiving an interview. You never know who is connected to who!
2- Take the initiative in your internship any chance you get.
You will be learning so much when you start working at a new school site. Taking initiative, in my opinion, is one of the most valuable skills a high school counseling intern can have.
Want to try something new? Bring it to your counseling department meeting! Have an idea but not sure what the practical steps to take in order to implement it with the school's bell schedule and policies? Ask who to connect with in the school to make it happen! Not sure WHAT project to start next? Ask your supervisor what you can take off of their plate. Everyone loves an intern who is self-directed. (A strong intern can double my productivity because I can have TWO of me getting the job done which doubles my impact or cuts my time in half!)
Dig into the school's data and then start solving problems. Find lesson plans or activities that address these problems, and dive in. If I could pick just ONE thing that I want an intern to come into my site with, it would be INITIATIVE.
3- Don't be afraid to ask questions of your supervisor.
Ask a million questions. You'll quickly learn that whether you have 0 years of job experience or you're nearing retirement, you will ALWAYS have questions. That's one of the fun parts of this career! You get to be a lifelong learner just like you encourage students to be. There are a lot of tasks that only get done once or twice a year, so you'll always need to revisit policies and procedures and ask questions of those around you. Even the same tasks done across the district may be done differently depending on the school you're in, so it never hurts to ask for clarity especially before completing a high-stakes task.
4- Put yourself outside of your comfort zone during your internship.
Do more of what makes you nervous. If classroom lessons freak you out, start with a tiny class on a lesson you feel confident teaching and work your way up to a larger class. Figure out what makes you nervous about the task. Is it the content? Spend some time doing research to get familiar with it. Is it the students? Pop into those classrooms to see how the teacher manages their behavior or study some of their names ahead of time. Growth doesn't happen from staying comfortable.
If your supervisor has high expectations for you, don't be intimidated. Know that they are trying to best prepare you for this career. If you can be efficient with the time you're given each day and make a significant impact on the students at your internship site, your reputation will precede you in any job interview you have.
Headed into the job search realm soon? Jump into my High School Counseling Job Interview 3-Day Video Challenge to help get you prepped! Interested in hearing more about my high school counseling membership for continued high school counseling support? Get on the waitlist for the Clique Collaborative — doors open twice per year!