Academic interventions that aim to reach all students in a single grade level simultaneously are something counselors should be gearing up for each year, no matter their assigned grade levels. I believe when academic interventions are executed well with relevant content, clear planning tools, and tangible action steps, the effects can be incredibly impactful and long-lasting. We were very intentional about this in my school, and we had great graduation rates to back up our efforts.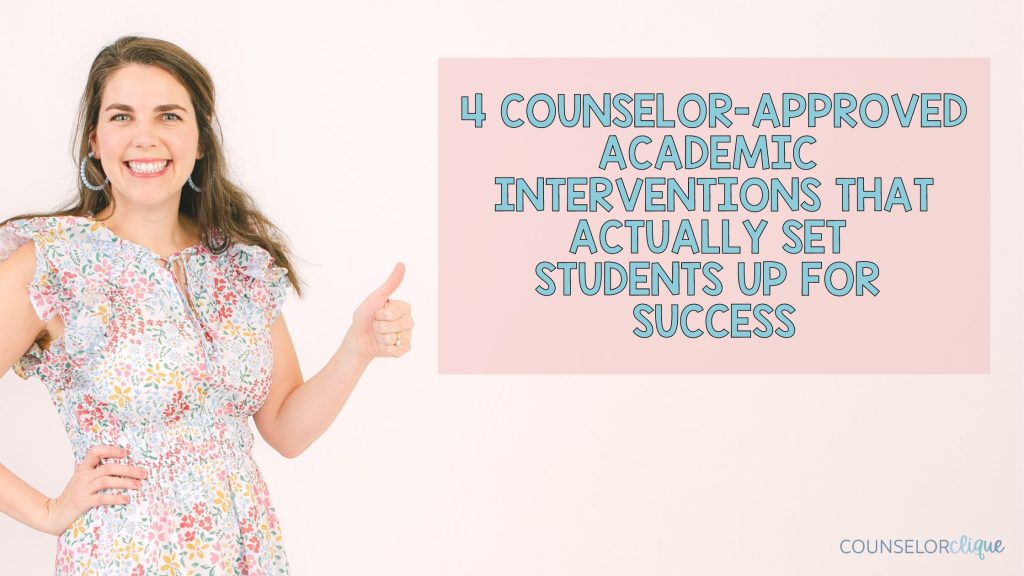 Most of our academic planning lessons, as a whole, equipped students to read their transcripts, understand the scholarship process, and learn about post-secondary options. However, it's important to consider the uniqueness of each grade level and how to best use your time to effectively meet students where they are at.
Below, I unpack four of my most popular tools, organized by grade level, that other high school counselors have found to be the most useful for their academic interventions. These work fantastically as tier 1 academic interventions; however, they are also adaptable for small group settings, individual meetings, and parent meetings. These are all bundled in my TPT store, or available for individual purchase, as well.
Read on for all the important details!
1- Center your freshman academic interventions on the transition to 9th grade
I think it's important to distinguish with your 9th graders the difference between middle school and high school while directing their gaze forward to what's to come in their high school journey. My "Transition to Ninth Grade" Presentation emphasizes the importance of academics, while also helping your students set goals for their future. Pair this with the Freshman Year Planning Guide for an interactive component that holds students accountable with worksheets, info guides, and self-help tips.
Pro Tip: I have found an accompanying planning guide to be super helpful in keeping kids organized, while also partnering with parents with a visual resource. I personally would print the pages out and create folders for students if needed, but this also can be adapted for a digital format.
2- Build perseverance in sophomore students with academic interventions
Our 10th-grade students often get "lost in the shuffle" (middle child syndrome, anyone?), and academic interventions are a great way to make sure they don't get forgotten. Your sophomore students need reminding that their academics matter, as well as encouragement to keep pushing through as the stakes in tenth grade get a little bit higher. Start educating these students on academic goals, organizational plans, and self-care. Remind them that they are 2/3 of the way to decision-making time. This is not a lost year – it matters! Linking out to my Sophomore Post-Secondary Presentation, as well as the accompanying planning guide for you to find more information.
3- Focus your academic interventions on post-secondary planning with junior students
There is a lot to cover with our 11th-grade students. You will need to be a bit of a broken record with parents and students alike because there is a lot of information, and your caseload is probably large so it's easy for details to get missed. Post-secondary planning comes to the forefront in the junior year.
Guide students in thinking critically about life after high school. Be real with them, present options, but give realistic scenarios and expectations for each option. Think 2-year vs. 4-year colleges… not just preparation, but pros and cons of each. This is the year to really educate students on scholarship opportunities and the college application process, as well as the accompanying lingo (it's confusing!). Standardized testing should be high on the list for planning opportunities with these students, and of course, getting them ready for their senior year.
My Junior Post-Secondary Planning Presentation covers all of these topics and can be paired with the helpful planning guide to help students put what they learned into action. These resources are also great for parents, so if you have a parent meeting coming up, you can repurpose this content to educate your junior parents, as well.
4- Capitalize on senior interest with academic interventions and individual meetings
When I say "senior interest," I mean this is the year where we actually can grab our students' attention. Our twelfth-grade students are having to make real, life-altering decisions in the coming months, so they are less likely to tune you out. Let's harness the opportunity with academic interventions that continue to build upon the foundation you laid during their junior year.
You will want to get more specific this year on how to connect individually with the counseling team to serve as a support and guide. Continue their education on scholarship opportunities and processes and focus their efforts back on their course load and credits to ensure they have all they need for graduation. You'll want to be specific about applications, costs, campus tours, and all things college. Don't forget: your parents need help with this, too!
This is a busy year with lots on our plates. I'm here to put some more time back on your plate with my Senior Planning Presentation and accompanying guide (remember to print out and put in folders for students if they need extra help staying on top of things). Let's work together to run senior meetings like a boss.
As a reminder, all the resources mentioned above are conveniently bundled in my High School Counseling Planning MEGA Bundle or available for individual purchase.
Looking for a free resource to level up your high school counseling practices? Then check out my podcast, High School Counseling Conversations! Here's a Spotify playlist curated especially with college readiness episodes!